« [OFFER PDF] CCNA Security 640-554 Quick Reference | Main | [OFFER] CCNP Security VPN 642-648 Quick Reference »
By admin | April 20, 2012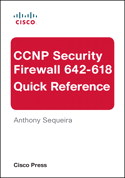 Published: Apr 23, 2012  |  Copyright 2012  | Pages: 123  | Edition: 1st
As a final exam preparation tool, the CCNP Security Firewall 642-618 Quick Referenceprovides a concise review of all objectives on the new CCNP Security Firewall exam (642-618). This eBook provides you with detailed, graphical-based information, highlighting only the key topics in cram-style format.
With this document as your guide, you will review topics on firewall basics, the ASA product family, ASA configuration with both the CLI and ASDM, ASA access control, ASA network integration, AAA configuration, and ASA HA. This fact-filled Quick Reference allows you to get all-important information at a glance, helping you to focus your study on areas of weakness and to enhance memory retention of essential exam concepts.
Table of Contents
Cisco Firewall and ASA Technology
Basic Connectivity and Device Management
ASA Access Control
ASA Network Integration
AAA Configuration on the Cisco ASA
ASA High Availability
Topics: 642-618 Exam, CCNP Security, CCNP Security Resources | No Comments »
Comments
You must be logged in to post a comment.