« [OFFER] Designing for Cisco Internetwork Solutions (DESGN) Foundation Learning Guide: (CCDA DESGN 640-864), 3rd Edition | Main | [OFFER] INE – CCNP Voice v8.0 Bootcamp Video (Torrent) »
By admin | April 1, 2012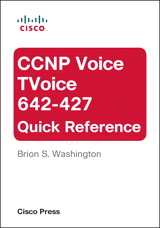 As a final exam preparation tool, the CCNP Voice TVoice 642-427 Quick Reference provides a concise review of all objectives on the new CCNP Voice Troubleshooting Cisco Unified Communications exam (642-427). This eBook provides you with detailed, graphical-based information, highlighting only the key topics in cram-style format.
With this document as your guide, you will review topics on troubleshooting Cisco Unified Communications systems and solutions in different deployments. In addition, this eBook covers troubleshooting methodology, triage, resources, tools, and fixes for Cisco Unified Communications Manager and the new v8.0 features such as Call Control Discovery, SIP Precondition, and Extension Mobility Cross Cluster, as well as dial plan troubleshooting including globalized call routing. This fact-filled Quick Reference allows you to get all-important information at a glance, helping you to focus your study on areas of weakness and to enhance memory retention of essential exam concepts.
Download | Size: 5.5 MB
Topics: 642-427 Exam, Audio&Video&EBook, CCNP Voice, CCNP Voice Resources, Cisco Press | 1 Comment »
One Response to "[OFFER] Cisco Press – CCNP Voice TVoice 642-427 Quick Reference"
sno Says:
September 29th, 2012 at 6:59 pm

Hi Admin,

This link donesn't work.
Pls upload again.

Thanks.
Comments
You must be logged in to post a comment.