« [OFFER] CBT Nuggets Cisco VoIP CCNA Voice ICOMM 640-461 – Torrent | Main | [OFFER] Cisco Press – Implementing Cisco Unified Communications Voice over IP and QoS (CVOICE) Foundation Learning Guide Fourth Edition »
By admin | December 25, 2011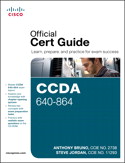 CCDA 640-864 Official Cert Guide, focuses specifically on the objectives for the Cisco CCDA DESGN exam. Expert networking consultants Anthony Bruno and Steve Jordan share preparation hints and test-taking tips, helping you identify areas of weakness and improve both your conceptual knowledge and hands-on skills. Material is presented in a concise manner, focusing on increasing your understanding and retention of exam topics.
The companion CD-ROM contains a powerful Pearson IT Certification Practice Test engine that enables you to focus on individual topic areas or take a complete, timed exam. The assessment engine also tracks your performance and provides feedback on a module-by-module basis, laying out a complete assessment of your knowledge to help you focus your study where it is needed most.
Well-regarded for its level of detail, assessment features, comprehensive design scenarios, and challenging review questions and exercises, this official study guide helps you master the concepts and techniques that will enable you to succeed on the exam the first time.
The official study guide helps you master all the topics on the CCDA DESGN exam, including:
Network design methodology

Network structure models

Enterprise LAN and data center design

Enterprise network virtualization

Wireless LAN design

WAN technologies and design

IPv4 and IPv6

RIP, EIGRP, OSPF, and BGP

Route summarization and route filtering

Security solutions

Voice and video design

Network management protocols
EBook: Download
Size: 12.90 MB
Unzip Password:  ciscobibles.com
Topics: 640-864, Audio&Video&EBook, CCDA, Cisco Press | 3 Comments »
3 Responses to "[OFFER] Cisco Press – CCDA 640-864 Official Cert Guide 4th Edition"
vsergeyev Says:
November 14th, 2012 at 1:09 pm

Dead link

lexzy Says:
April 1st, 2013 at 9:58 am

Dead link

lexzy Says:
April 1st, 2013 at 10:00 am

Dead link,please help.
Comments
You must be logged in to post a comment.