« [OFFER] Cisco Press – CCNP Wireless (642-737 IAUWS) Quick Reference | Main | [OFFER] Cisco Press – Cisco Unified Customer Voice Portal: Building Unified Contact Centers »
By admin | March 20, 2013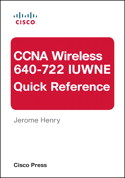 As a final exam preparation tool, the CCNA Wireless (640-722 IUWNE) Quick Referenceprovides a concise review of all objectives on the new exams.  The short eBook provides readers with detailed, graphical-based information, highlighting only the key topics in cram-style format.
With this document as your guide, you will review topics on concepts and commands that apply to this exam. This fact-filled Quick Reference allows you to get all-important information at a glance, helping you focus your study on areas of weakness and enhancing your memory retention of essential exam concepts.
CCNA Wireless recognizes the critical importance of professionals supporting wireless LANS including Networking Associates/Administrators, Wireless Support Specialists and WLAN project managers. The CCNA Wireless Certification validates candidate's skills in the configuration, implementation and support of wireless LANs, specifically those networks using Cisco equipment.
Download Link: http://www.4shared.com/zip/3Kbb2dlk/Cisco_Press_-_CCNA_Wireless_64.html
Topics: 640-722 Exam, Audio&Video&EBook, CCNA Wireless, Cisco Press, Wireless Resource | No Comments »
Comments
You must be logged in to post a comment.