« [OFFER] Cisco Press – CCENT/CCNA ICND1 640-822 Official Cert Guide, 3rd Edition | Main | [OFFER] CBT Nuggets Cisco VoIP CCNA Voice ICOMM 640-461 – Torrent »
By admin | December 21, 2011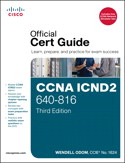 New Edition of Best Selling Official Cert Guide: Updated Content, New Exercises, and Expanded Coverage — PLUS includes CCNA Network Simulator Lite
The new edition of bestselling CCNA ICND2 640-816 Official Cert Guide by Wendell Odom has been updated to refresh the content, add new exercises, and enhance certain topics that are key to understanding for success on the CCNA exams. Chapters on VLSM, route summarization, and IP access control lists have been completely revised. In addition the book contains new practice exercises for all three of these topics to help reinforce the concepts and increase computation speed for exam preparation.
The official study guide helps you master all the topics on the CCNA ICND2 exam, including
VLANs and Spanning Tree Protocol
Static and connected routes
VLSM and route summarization
IP Access Control Lists (ACLs)
Routing protocol theory
OSPF and EIGRP
Troubleshooting
Point-to-point WANS and Frame Relay
Frame Relay
Virtual Private Networks (VPNs)
Network Address Translation (NAT)
IPv6
EBook: Download
Size: 6.52 MB
Unzip Password: 127#C75*[email protected]
Topics: Audio&Video&EBook, CCNA, Cisco Press, R&S Resources | No Comments »
Comments
You must be logged in to post a comment.